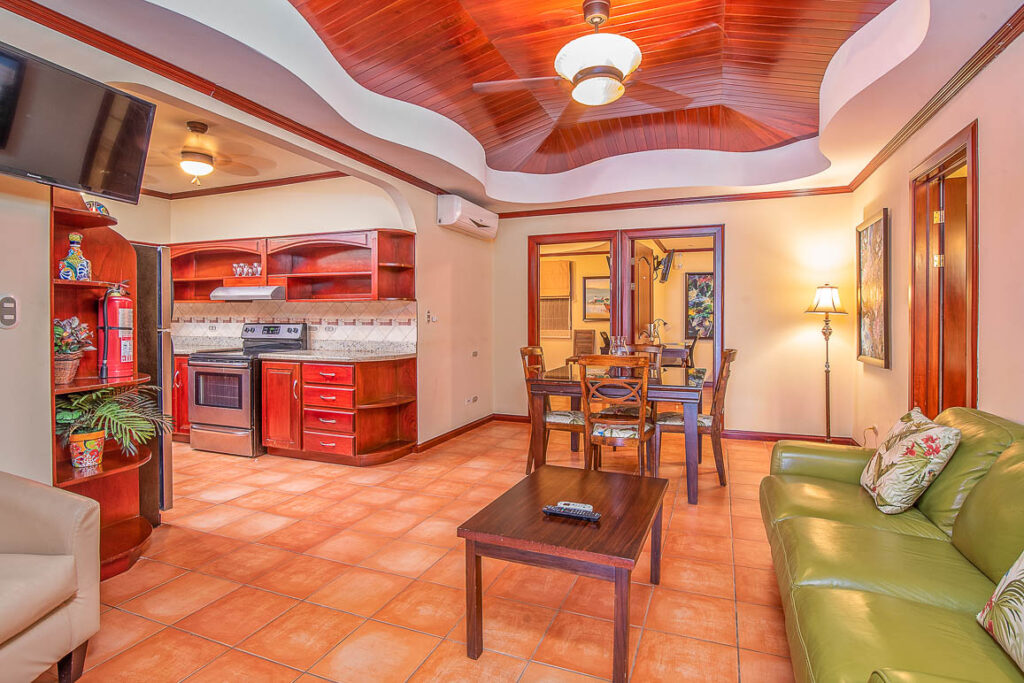 Description
All our rooms have been decorated with exquisite taste, with famous works of art Costa Rican pictures and sculptors. The rooms have:
Cable TV.
1 Queen Size Bed.
Private Bathroom with hot water.
MiniBar.
Mini Refrigerator.
Air Conditioning.
Full & Equipped
What Our Customers say About Us
on Tripadvisor

Verified
Above and beyond Close to the airport, great value, and a truly unique experience. The staff went above and beyond to help us navigate this town that foreign to us. I also enjoyed the well made beverages they made for us at their full bar.

LoveTravel251328
2021-12-14
Verified
Thanks Jessie and team Simply a great place to stay and made even more special by the staff and owner, who are welcoming, friendly and attentive to your every need. Cannot thank them enough. Would really like to thank Jessie and Margarita for their help and friendliness.
Verified
An absolute gem of a hotel with only one flaw This is a unique, special little hotel. The breakfast was outstanding, the service was impeccable, the room was spacious, comfortable and clean. The bar was cozy and welcoming, the art work was interesting. The staff was so friendly and helpful. I really only have one suggestion: become more eco-friendly. For example, ask guests to reuse their towels, turn off lights, etc. And most of all, the hotel should stop using plastic straws at the bar. Using single use plastics is so harmful to the environment (it's literally choking sea life to death). This is such a gem of a hotel. I would love to see it embrace sustainability in all its operations, but especially eliminate useless, single use plastics. I hope the management will listen. We plan to come back to Hotel Casa Roland the next time we are in San Jose.

Ambassador743976
2021-09-23
Verified
Increible todo muy excelente todo el servicio, lugar, el personal, comida, seguridad, accesible todo, super limpio, lo puedo recomendar perfectamente, puedes reservar con toda facilidad y especialmente me encanto la hospitalidad.

Verified
Great little Gem! We like unique, quaint hidden gems, we were very pleased with our stay here! Spent two days here. Very clean and nice, great decor. Comfy pillows. Long walk to some rooms, but fun, like a wee maze, yet if you have mobility issues maybe tell them when booking. Very pleasant staff!
Verified
Lives up to the fabulous review I don't think that I have anything to add if you are reading the other reviews. Don't miss this most unusual experience. I loved everything about it. The staff was really friendly, the rooms were spacious, and the art was fascinating.
Verified
Very disappointing This hotel is in a dangerous neighborhood (which I was warned about by the staff) with nothing else around. They also don't actually have a fitness center, and their "restaurant" - which is actually just a small kitchen where any staff member cooks mediocre food - was closed most of the days I was there. They keep the hotel locked down so you can't get in or out without someone to open the gate, and I was concerned that I might get stuck outside given that there were nights I didn't see much staff around. Some of their rooms don't have windows to the outside or safe drinking water (and bottled water wasn't provided). It's cool that they have a lot of art, but it's definitely not family-friendly (seriously there's a giant painting of a topless woman as soon as you walk in). I generally choose adventure over luxury when I travel but lying about amenities is unacceptable. I cut my trip several days short as a result.

Verified
Hotel con encanto y trato excelente Estuvimos alojados a nuestra llegada a San Jose y a la vuelta. Es un hotel con encanto, las habitaciones son super amplias y muy bien equipadas. El personal amabilísimo con un trato inmejorable. Muy recomendable, repetiríamos sin dudar!

Verified
Gran opción para alojarse en San José El hotel es enorme, precioso y con mucho encanto. Nos alojamos en una habitación doble (completa, enorme y con camas muy cómodas). El desayuno está riquísimo y nos pusieron todo tipo de facilidades... Mi acompañante es intolerante a muchas frutas y le hicieron jugos naturales especialmente para ella. El personal (desde las recepcionistas hasta la cocinera) fueron muy amables y atentas. Dispone de parqueo gratuito para los clientes. Sin duda, volveremos en futuros viajes a Costa Rica.

Verified
Excelente servicio . El lugar es hermoso y encantador ,digno de la familia de Casa Roland ... Amo siempre visitarlos ,me hacen sentir siempre como en casa !! Mi hermana y yo disfrutamos mucho de nuestra estancia ...estoy segura que volveré en otra ocasión .... La única nota a destacar es que está algo alejado de San José como tal y es recomendable venir en auto propio oh hacer uso de Uber .!! Por lo demás merecen un 100%
great hotel
great hotel with very spacious facilities, very close to the center of san jose
Amazing
everything is charming, the room is very comfortable and above all clean, I recommend it
charming
since it owns all those works of art, I like it a lot, I'll be back soon
Definitivamente un excelente hotel
en pocas palabras 5 estrellas merecidas
digno hotel Casa Roland
su servicio personalizado, el desayuno increíble me gusto mucho
Great spot great art
Beautiful hotel with lovely art close to all friendly and quiet staff. very delicious breakfast
Especial para descansar
La suite es muy lindas y confortable y el desayuno super deliciosos
Really liked the hotel.
Truly enjoyed the staff. Very friendly, personable and knowledgeable .
que lindas decoración
muy cómodo y lindo hotel todo es una obra de arte… pronto regresare
Excepcional
Tha Casa Roland is an amazing hotel
Comfortable.
The staff is very accommodating and pleasant. I would recommend this hotel to couples or families.
Agradable, tranquilo y seguro
Esto si es una Suite muy limpio y agradable decoración. los recomiendo
Excepcional♥
Un hotel muy bonito, en una excelente ubicación, además de tranquilo. El personal es excelente, un servicio inigualable, muy amables y serviciales. Si volvería a visitarlos.
Grata estancia
Fue agradable, silencioso, cómodo, las habitaciones tienen un toque colonial muy pintoresco
precio-calidad muy bien
Hotel en buenas condiciones, el servicio en la mañana muy atentos, 5 min del aeropuerto Tobías (vuelos locales) a 25 min del aeropuerto internacional. lo recomiendo
Excelente hospedaje
Muy bonito se siente ambiente familiar, el personal es muy amable y atento, el desayuno muy bueno,
muy lindo
Buen precio, excelente atención y cercana ubicación al Aeropuero Tobias Bolaños.